Spindletop Oil & Gas Co.?s Great Strides on Behalf of the Cystic Fibrosis Foundation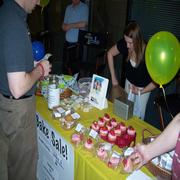 Spindletop Oil & Gas Co. is a proud participant in the Cystic Fibrosis Foundation?s Dallas-area Great Strides event, which took place on Saturday, May 17, 2008 at Truluck?s on McKinney Avenue in Dallas. Visit our team?s webpage!
To raise additional funds for Great Strides, Spindletop held a bake sale. Spindletop employees volunteered to make homemade goodies to sell in the upstairs lobby of One Spindletop Centre, and it was a great success!
Spindletop also decided to hold an exciting, high stakes competition amongst its managers in order to go the extra mile for Great Strides. Each Spindletop manager who volunteered was given a jar in which they collected money from SOG employees (and their fellow managers) and the manager with the most money in their jar would ?win? and wear a fun costume for the day. It was a three way tie, so three Spindletop managers who are good sports will wear fabulous costumes for an entire business day!
Spindletop?s generous employees have donated time, money, creativity, lots of sugar, and plenty of teamwork to the CFF. We?ve gone to great lengths for Great Strides!
Many thanks to our families and friends who have supported us in our efforts. Thank you to everybody at One Spindletop Centre for supporting our hardworking pastry chefs at the bake sale.
To learn more about the Cystic Fibrosis Foundation and Great Strides and to make donations, visit http://www.cff.org.