Spindletop Oil & Gas Co. and the Tenants of One Spindletop Centre Partner with Carter BloodCare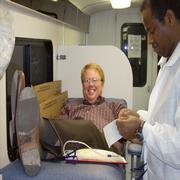 Spindletop Oil & Gas Co. and their tenants partnered with Carter BloodCare to make the One Spindletop Centre Blood Drive on Friday, October 24, 2008 a success! Thirteen registered donors were able to donate and Carter BloodCare was very grateful for their participation. Spindletop hosted a spooktacular building-wide luncheon and costume contest for everyone who works at One Spindletop Centre in conjunction with the blood drive.
Carter BloodCare is Texas' largest blood center providing more than 330,000 units of lifesaving blood to North Central and East Texas each year. Now, more than ever, donations are needed to help all those who have required medical attention due to Hurricanes Gustav and Ike which devastated South Texas ? 1,100 blood donations per day are required to meet the needs of the Dallas/Ft. Worth area alone! One out of every three people will need blood at some time in their life. The blood from each donor is separated into three elements: red cells, plasma, and platelets. Blood from each donor will save three lives.